1/14 Mercedes Benz 3850 Heavy-Duty "Supertruck" with "Lowboy" 3 axle trailer


even thought Tamiya make's a bunch of nice Semi-kits
( I do have them all ) my favorite one is still the Mercedes Benz .
Maybe since at one time ( back in Germany ) I used to work on the real ones .
( that get's you hooked ! )
When Tamiya introduced the MB 1838 I was a little disappointed ,
since I always had a heart for the "Super-Trucks" .
Heavy Duty 6x4's ( or these days even with 4 axles ! ) with monster-engines to pull the heavy-loads .
you see on German roads ( actually all over the World ) owned by companies for special-transports ,
A King Hauler had to give one of his rear axles ( plus a bunch of parts )
and a lot of miscellaneous parts from all kind of models to made this project possible .
Here now the first photos from my Mercedes Benz 3850 "Supertruck"
(check the additional details ! )
Truck is powered by a self-made 27turn single wind 540 type motor
similar like the kit-motor but with a modified motor-can ( stronger magnet's ),
ball-bearings ( for longer life , less friction ) and replaceable brushes .
Means more rpms and torque , but not to crazy rpm's.
I plan to upgrade to a 22 turn single wind 550 type ( longer armature and magnets ! )
NOW we are talking about extrem pulling-power !
I also installed Tamiya's "truck-sound" and the servo for the 5th wheel and
motorized support-legs (trailers) operation.
The next step will be the installation of working light's , blinker's............
Of course I had to upgrade the rims and tires
and the cab has bean lifted by 6mm to make room for the larger tires .
The animal-guard is not only bolted to the bumper , that would be to flimsy .
I made some extra supports behind the bumper , connected with the mainframe .
The animal-guard can be easily removed by taken of just 2 nuts ,
but the hole construction is strong enough to survive a serious bump or crash .
You better clear the road then this unstoppable Super-truck plows the road !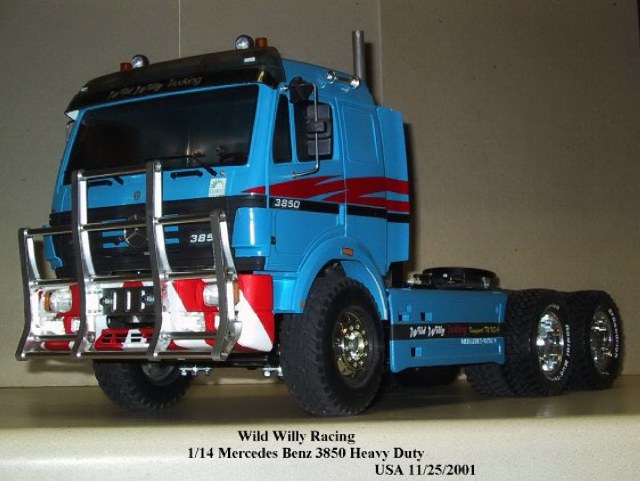 click the photo above to see the old original photos !