CustomRCmodels - Events
|
home



R/C tank-battle event March 2005

this 4 day event was for sure the "biggest" so far .....
with almost 80 1/15-1/16 scale tanks .....
I am still sorten out the countless photos and videos we have from this awesome event ...
as soon I have more time , I will post here all the detailes ....
see below some photos and videos ......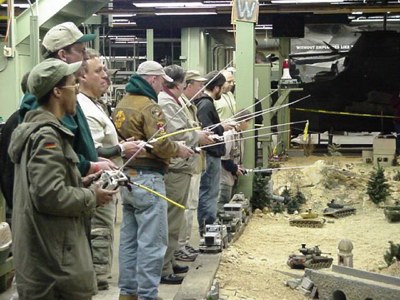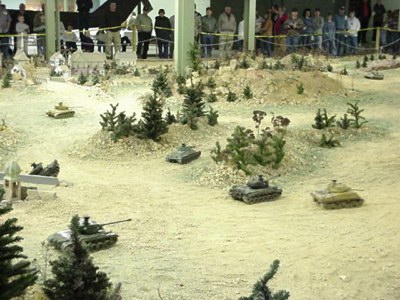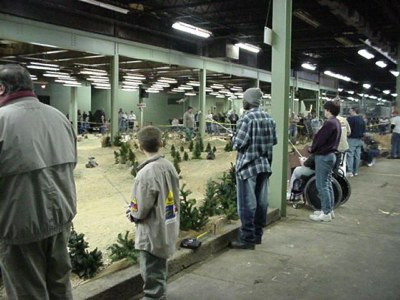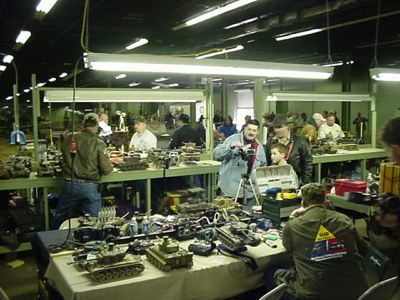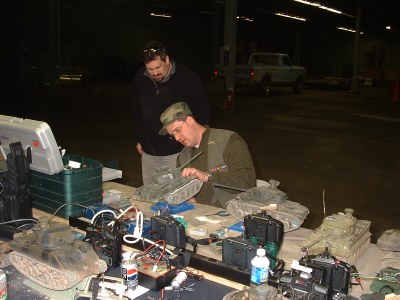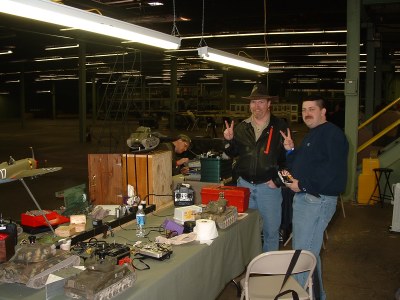 this time I was filming with a Digital camcorder mounted on a Tiger 1 chassis ...
with the Camera fully remote controlled !
pan , tillt , zoom and recording via my R/C transmitter....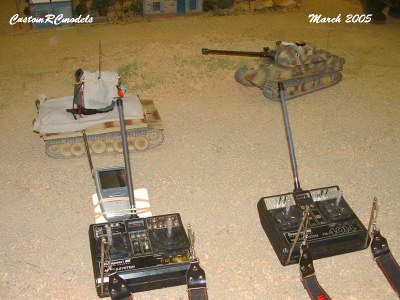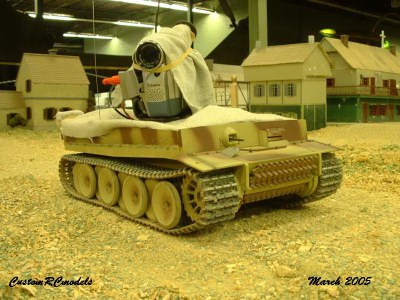 this was NOT a new secret weapon.....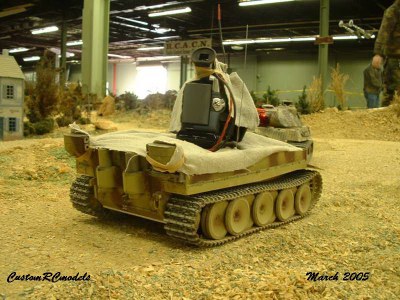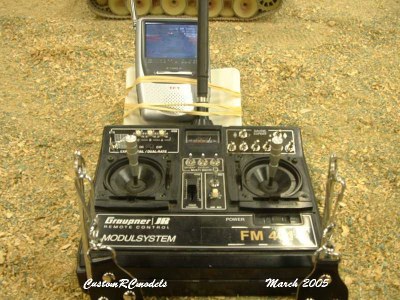 ..nob....that was my Tiger 1 with video-camera transmitter with video-monitor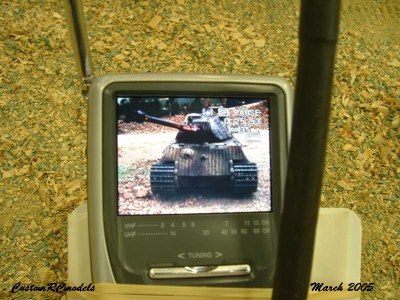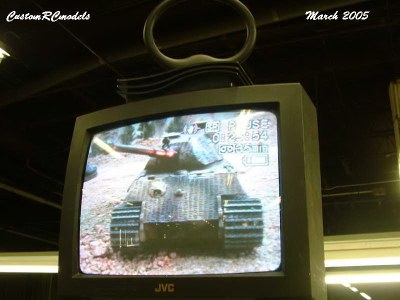 video-monitor on my transmitter and a TV on our workbench
as well a 27" TV , I had setup that the public could also see what was going on on the battlefield ....
check out the first 2 videos from this day :
the Tanker-Parade : my King Tiger :
while we are setting up the tanker-lineup for our group-photo
Dana catched me driving my 2 tank-transporters and my camera-tank at the same time .....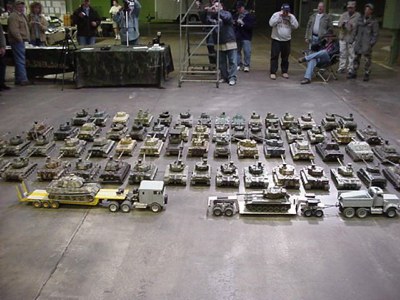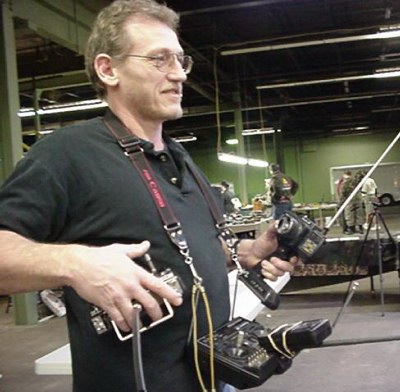 and here is an article from a local newspaper :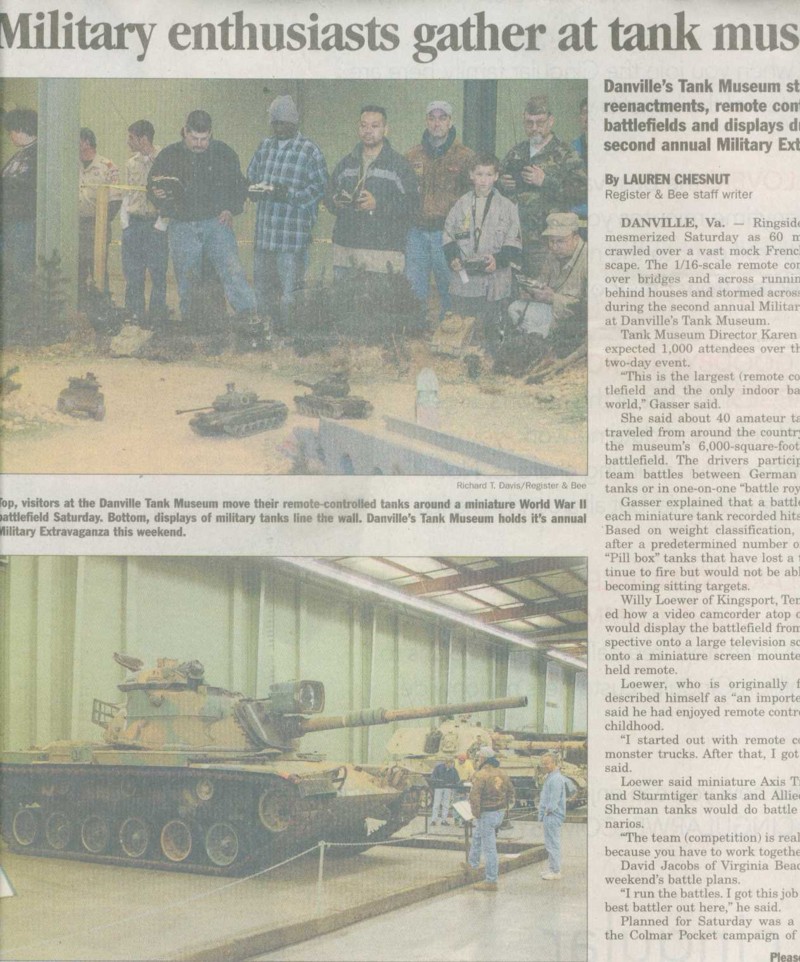 Military enthusiasts gather at tank museum
By LAUREN CHESNUT
Register & Bee staff writer
Saturday, March 19, 2005
DANVILLE, Va. - Ringside visitors stood mesmerized Saturday as 60 miniature tanks crawled over a vast mock French country landscape. The 1/16-scale remote control tanks tore over bridges and across running streams, hid behind houses and stormed across fields to attack during the second annual Military Extravaganza at Danville's Tank Museum.
Tank Museum Director Karen Gasser said she expected 1,000 attendees over the course of the two-day event.
"This is the largest (remote control tank) battlefield and the only indoor battlefield in the world," Gasser said.
She said about 40 amateur tank drivers had traveled from around the country to compete on the museum's 6,000-square-foot World War II battlefield. The drivers participated in either team battles between German and American tanks or in one-on-one "battle royale" contests.
Gasser explained that a battle unit on top of each miniature tank recorded hits by turning red. Based on weight classification, tanks succumb after a predetermined number of hits, she said.
"Pill box" tanks that have lost a track could continue to fire but would not be able to move, thus becoming sitting targets.
Willy Loewer of Kingsport, Tenn., demonstrated how a video camcorder atop one of his tanks would display the battlefield from the tank's perspective onto a large television screen, as well as onto a miniature screen mounted on his hand-held remote.
Loewer, who is originally from Germany, described himself as "an imported redneck"
and said he had enjoyed remote control vehicles since childhood.
"I started out with remote control cars and monster trucks. After that, I got into tanks," he said.
Loewer said miniature Axis Tiger, King Tiger and Sturmtiger tanks and Allied Pershing and Sherman tanks
would do battle in various scenarios.
"The team (competition) is really the cool part, because you have to work together," he said.
David Jacobs of Virginia Beach designed the weekend's battle plans.
"I run the battles. I got this job because I'm the best battler out here," he said.
Planned for Saturday was a reenactment of the Colmar Pocket campaign of 1945.
The day-long battle was to be condensed to three hours Saturday, Jacobs said.
"It's famous, because that's where Audie Murphy turned back a large German force single-handedly," he said.
Frank Pittelli of Annapolis, Md., said he brought members of his Remote Control Tank Combat Club to the Tank Museum this weekend to offer kids the opportunity to try their hands working larger 1/6-scale remote control tanks. They could also shoot paint balls at cardboard tank targets from a stationary artillery piece. When his club members gather, the two activities are combined, Pittelli said, but they were offered separately this weekend so children could try both activities safely.
In just 32 seconds, 8-year-old Haley Copenhaver of King, N.C., hit all six tank targets using the remote control provided.
She had 10 shots in which to do so and could not hit the ambulance positioned among the targets.
She was thrilled to have succeeded.
"Backwards is up, frontwards in down," she explained.
Doug McGraw and Joseph Raminger came from Haymarket, Va.,
dressed in period garb to participate in living history demonstrations Saturday.
"We portray the German mountain troops - the Gebirgjager," Raminger said.
"We like the hobby because we get to talk to veterans," McGraw said, stressing he does not endorse Nazi ideology.
The Tank Museum is home to 49 tanks from World War I to the present and 50 artillery pieces from 1800 to the present, according to Gasser.
It also houses 150 machine-gun-size weapons such as bazookas and mortars, she said.
More than 100 tank and cavalry general uniforms from as early as 1509 are also displayed at the museum.
The Military Extravaganza at Danville's Tank Museum will continue from 10 a.m. to 5 p.m. Sunday. Admission is $10 for adults and $9.50 for children under 12 and adults over 60. The museum is located at 3401 U.S. 29. For more information, call (434) 836-5323.
Contact Lauren Chesnut at lchesnut@registerbee.com or at (434) 793-2311, Ext. 3048.
This story can be found at:
we had also 2 TV-stations showing up ....
WEST
WDBJ7
( check out the last 3 videos on this page )
I am trying to get hands on these videos from these TV stations,
since unfurtenetly nobody had the chance to record them ....

Kevins " after action report " :
From: rimrodt@...

Date: Mon Mar 21, 2005 9:43 pm

Subject: Danville - After action report


This is an after action report
on the Danville Battleday March 2005
The Battleday went on for 4 days;
Thursday, Friday, Saturday, & Sunday.
There were 37 registered participants (tankers).
We had 2 Reps from Tamiya USA. They were very nice to talk to.
Tamiya donated about $2000 in models
(including a Full function Kingtiger)
to the drawing for the event. This is more than the IPMS
National model contest gets to my knowledge.
They accepted the suggestions we had on R/C tanks
and will pass it on to the home office in Japan.
The Reps were surprised to see so many models in one spot.
Wecohe from Germany sent 2 Reps and was also very impressed
with all that goes on at Danville.
They also accepted suggestions on new products
we would like to see. They were also very nice
to talk to. If you are reading this, Thank You Wecohe!
There was a number of activities and sites for the visiters and attendees to see;
The Museum started and drove their T34 / 85, Mule,
and did live firing demos of machine-guns and a flame-thrower.
There were numerous W.W. II reenactors in detailed uniforms.
There was a model contest along IPMS lines.
There were militaria dealers present.
It all started on Thursday when we had 16 tankers check-in.
(That is as many as we had total in are first Battleday -
2 years earlier.)
The Battles started and went on for 4 days.
This Battleday we had no Competition Battles
(Those that are looking to get a shot at Das Reich
will get you chance at the next Battleday in June)
The following is a list
of 1/16 scale R/C battle unit capable tanks present;
German: Qty ~ (36 total)
JadgTiger 2
King Tiger 10
Sturmtiger 1
Tiger I (Early) 16
Tiger I (Mid) 5
Puma 1
American: Qty ~ (34 total)
Super Pershing 1
Pershing 15
M36B1 2
M10 1
Sherman's
M4A3E2 (Jumbo) 3
M4A3E8 (76) 4
M4 (105) HVSS 6
M4 w/ Calliope 1
M3 Grant 1
Russian: Qty~ (3 total)
T34/76 2
T34/85 1
Grand total of tanks = 73
I wish to thank the A.A.F. museum
for all their excellent support
and Mike Gregorious – East P.A.C. (Judge)
Duke Collins – E.T.O. (Assistant inspection Judge)
Bob Gusek – H.E.A.T. (Assistant inspection Judge)
Jake – A.G.E. (Chief Referee)
Doug Gasser (Facility & Tech support)
They volunteered much, and in some cases all their time helping run the event.
Jake & I did not even run a tank this event.
This event could not have gone so smoothly
without their great support.
THANK YOU!
I wish to also thank all the tankers that came.
We had so many tankers with so many tanks
that we could have had a real problem with radio
channel conflicts. But with the patience of the tankers and willingness to share crystals and change channels and sticking to a frequency control procedure that we actually had nobody not battle because of a lack of channel access.
Kevin Rimrodt

more fun-stuff from this awesome battle-weekend is coming soon ......
March 2005