CustomRCmodels - Events
|
home



R/C tank-battle "fun-run" in Danville January 2005

from the first time going to Danville ( 2 years ago )
I always had plant to go there between the actuall battle-days ( every 3 months ) ,
but excepted for 1 time with my German buddy Klaus ,
I never made it ....
by talking to Bill and Aaron , the idea was born to orgenize a " fun-battle"
between the battle-events
the last weekend in Januray 2005 we all did get together for this "fun battle"
even thought we did freeze our buds off ,
( but during battle everybody heated up ! )
we all had a hell lot of fun again ....
this was a non-competition , no points , just having fun / practice battle over 2 days ....
From: "Mr. Dana Lowell"
Date: Sat Jan 29, 2005 12:45 am
Subject: Danville Day One Pics
It's cold!!! It's Friday, day one of the Danville scrimage. And it
has been one of the funnest battledays yet! We had lots of good
practice and RC tank chat. By evening Aaron arrived with three boys
from Georgia, followed by several MADD guys from the DC region. The
most popular work benches were the ones with electric heaters! (And
a big snow/ice storm is predicted for tomorrow!)
There were 13 tankers Friday night, including Dick, who watched while
12 of us split up into teams had two great battles. Running Tigers
and King Tigers were Doug, Bill, Jimmy, Avery, and James for the
Axis. And the Allies had Bob and Keith running medium Shermans, and
Dana, Aaron, Anthony, Andrew, and Roel driving heavy Jumbos or
Pershings. The Allies won both.
Here are a few pictures. Notice the new wider streets in town.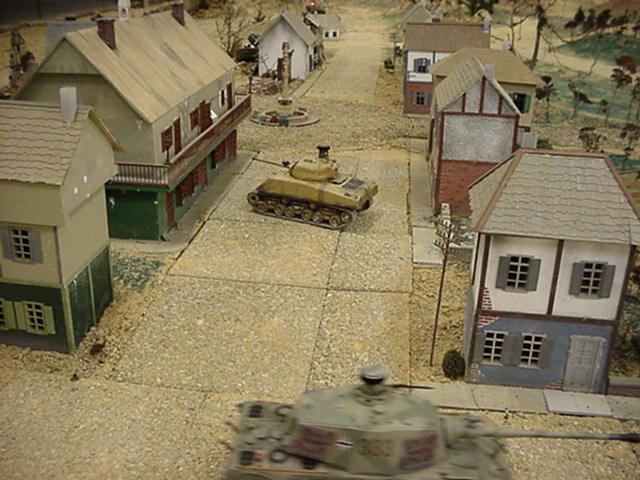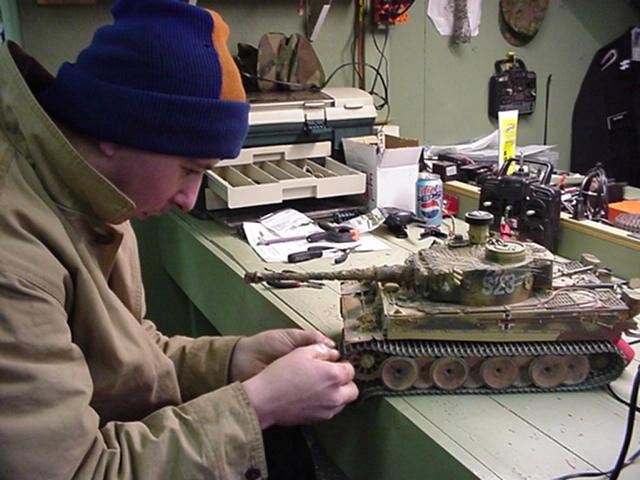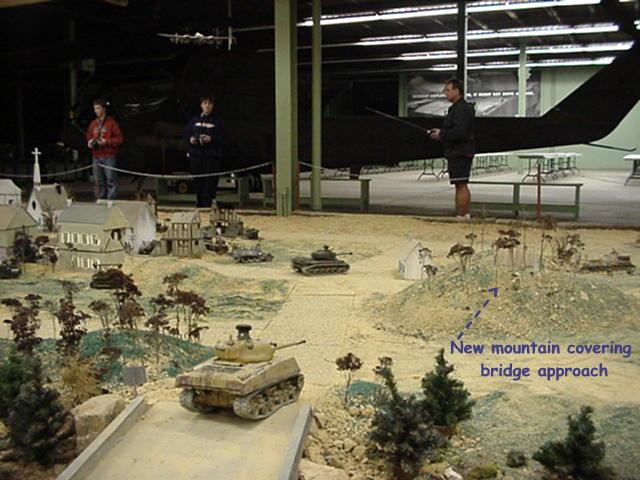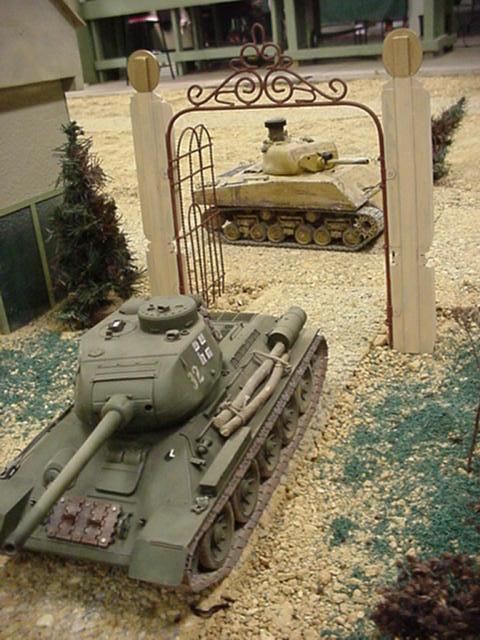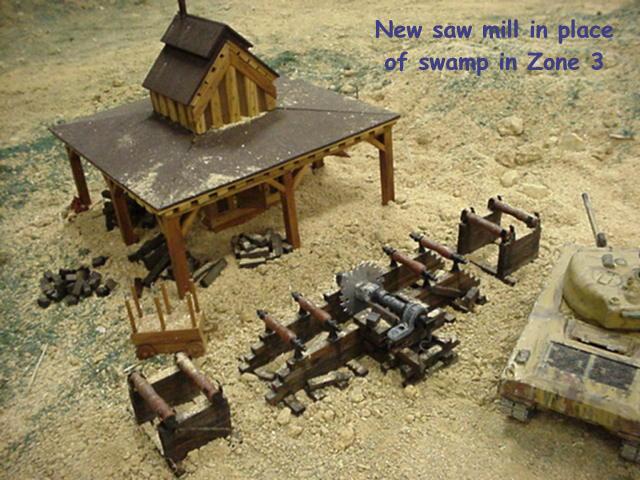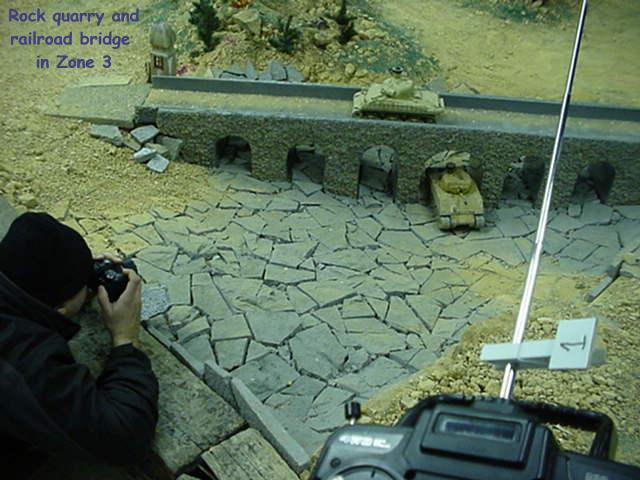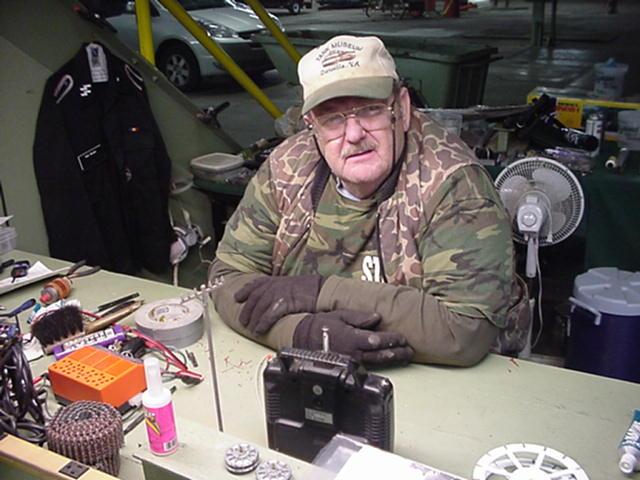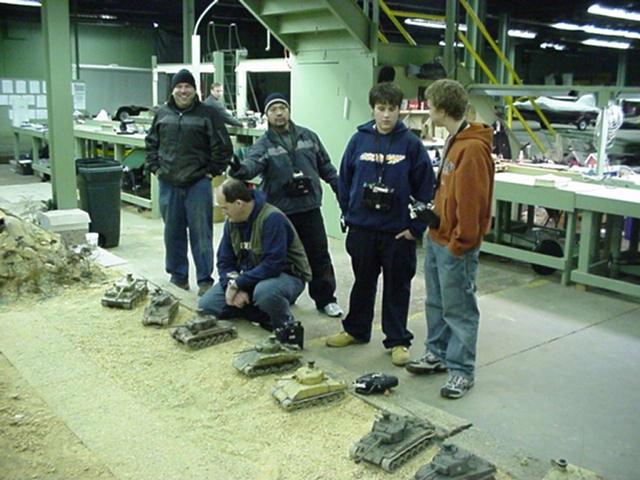 From: "Mr. Dana Lowell"
Date: Sat Jan 29, 2005 4:54 pm
Subject: Danville Day Two Pic
We had so many great battles Saturday that I only had time to take
ONE picture!
It was colder than Friday...but the battles were "heated"! In
addition to the 13 guys from Friday, Mike and Willy also arrived. We
had numerous "capture the town" battles, including some in which the
defenders could not leave the stone streets due to "mud". The Allies
were the dominant force of the day.
Willy's Porche King Tiger with Zimmerit was a big hit because his
battle unit LED's lit up the inside of the vision slits on his
commander's cupola! Several guys took pictures.
Here is my only pic of the day: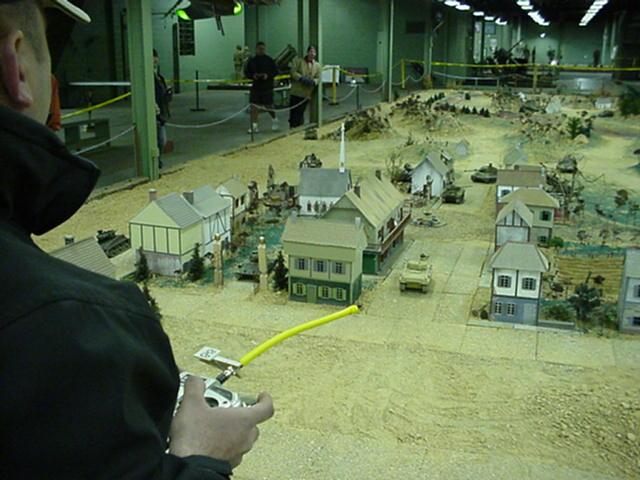 Tigers can be seen advancing on Berniersville as Shermans put up a
good defense. Notice Bob's flexible Ducky antenna in the
foreground...a good idea for Danville, so you don't poke out the eyes
of teammates or spectators!
See everyone in March!
Dana Lowell
"Red Devils"
H*E*A*T Club
this time we had also 3 battle-ready King Tiger's
here are some photos of the " King Tiger invasion "....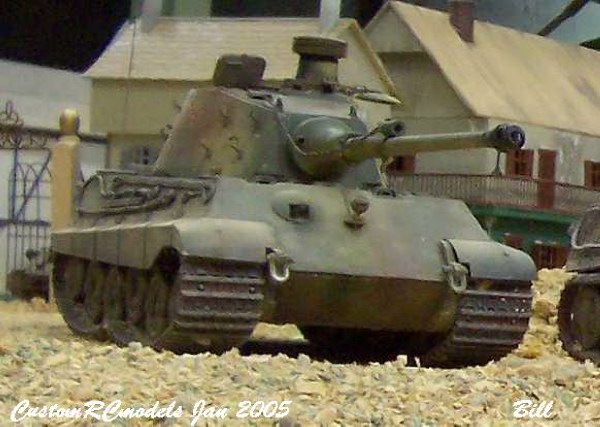 Bill's Henschel Turret King Tiger
Willy's Porsche Turret King Tiger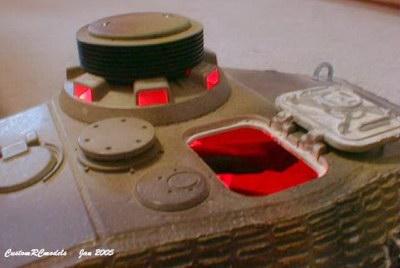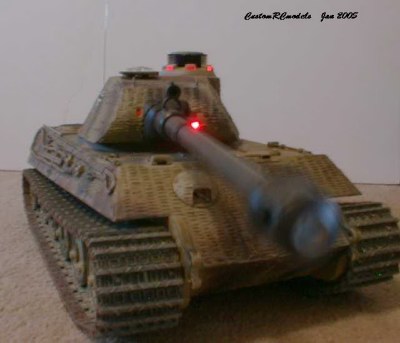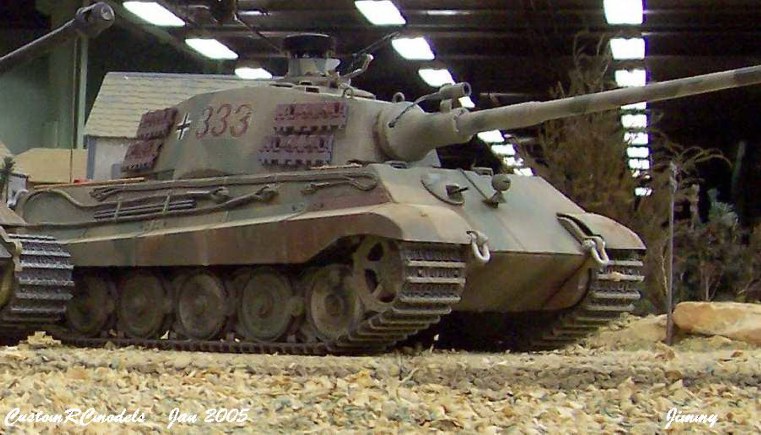 Jimmy's Henschel Turret King Tiger
From: "Bill Will"
Date: Tue Feb 1, 2005 1:46 pm
Subject: January Fun Run
I did forget to thank all the guys that came out. And girls (
Donna/Aaron's wife ). Jimmy and Bob G. were one of the first ones
there on Friday. Which even in the cold. Took off from work to be
there all day. It meant allot to me to see other tankers as excited
about this hobby as myself. We got some battles started that day
early. Also some great pictures posted in Bob's folder. The warming
of the radios I think was Dicks idea. Great shot. It didn't help.
Just looks good on film. Then when Willy walked in the door. We all
gave him a real German welcome. Schnapps for everyone. So it was a
combined effort from everyone that showed that made this event what
it was. A success. Aaron and myself just started talking about it
and it grew it's own legs. Or I should say it's on tracks. Hope we
can do it again real soon. I was hoping to come to the March RCACN
event. But my kid has spring break that weekend. So we will have to
see. But it's going to be a good one. Lot's of action all over the
museum. Try to make it. Even if you do not have a tank or have it
built yet. Regards to all.
check out this site for more infos about the Danville tank museum
and the upcoming events :

02/2005