Video CD's mid 1980 85 Tamiya R/C car Videos V2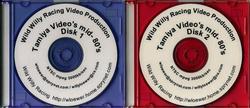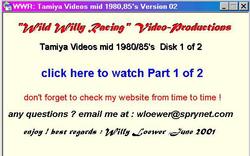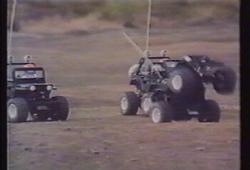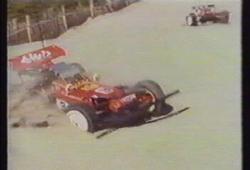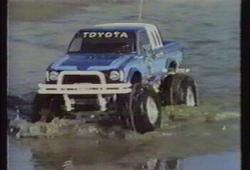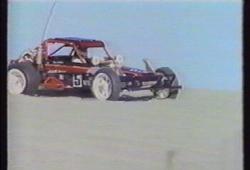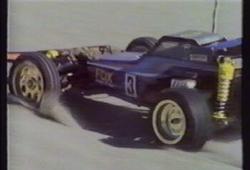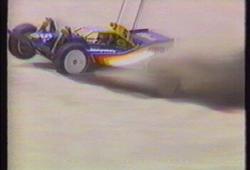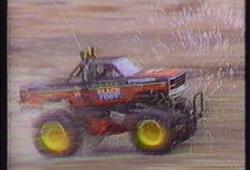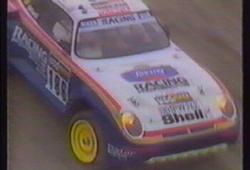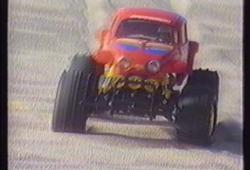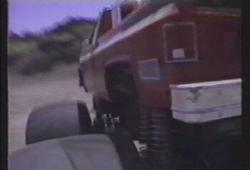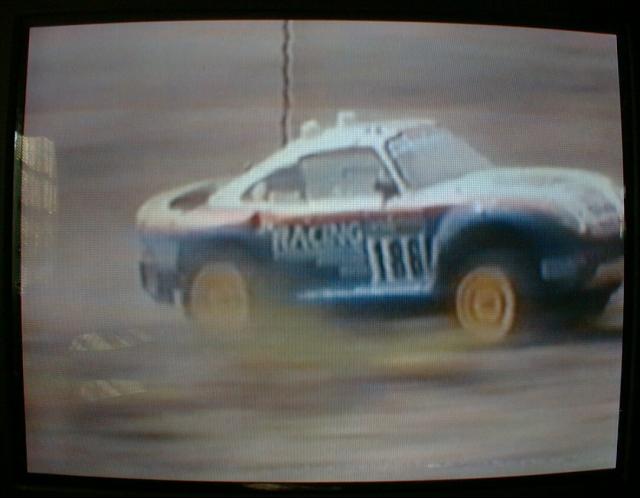 TV-screen-shot, Video-CD-playback from Computer to TV
this is my second set of Tamiya video's
these videos are 352x240 high quality mpg-files I just finished . these videos are made for full-sceen playback .
You can set your media-player to 200% zoom .
If you have a video-card ore DVD player in your Computer with TV out , you can watch these Video's also full-screen on your TV .
These Video's are digital remastered with 3000 kb/sec in MPEG-format and NTSC (USA)-color-standard . (also in PAL ( Europe ) standard available ! )
( regular Video-CD's are only 1150 kb/sec )
please remember these clips are made from more then 15 years old VHS tapes !
click here to see more screen-shots from the Video-CD's
click here to watch or download previews of these Video CD's
You will see a lot of action in these videos . Jumps , off-road-racing, street-racing, close-ups with detailed and cut-away views. These Videos are converted from original Tamiya promotional videos from the mid 1980ís.
Following Tamiya R/C cars are futrued in these videos :
#58035 Wild Willy
#58041 The Frog
#58043 Grasshopper
#58045 Hornet
#58047 Hotshot
#58048 Toyota Bruiser 4x4
#58049 Toyota Tom's 84C
#58050 Wild One
#58051 The Fox
#58052 Porsche 956
#58055 The Bommerang
#58056 The Falcon
#58057 The Bigwig
#58058 Blackfoot
#58059 Porsche 959
#58060 Monster Beetle
#58061 Striker
#58065 Cloud Buster
#58067 Thundershot
#58070 Midnight Pumkin
some feedback from happy customers :
Customer : vidtronics (167) Date: May-29-01 18:12:09 PDT Item: 591450369
Praise: A great transaction, Amazing Video's!! Would highly recommend!! A+++
Customer : rc4x4 (117) Date: May-26-01 16:58:13 PDT Item: 586893456
Praise: Excellant seller.Great product and would buy again. AAAAA+++++
Customer : hobby_guy (47) Date: May-22-01 23:10:54 PDT Item: 587531055
Praise: Great ebayer! Thanks for taking the time to produce this quality product....
Please note:
If you purchase this CD set you agree to:
To use this Video CD-set ( 2 CD's , close to 50 minutes of video )only for your personal enjoyment and do not make any additional copies from these CDís. If you like more then 1 set I will make a bulk-price. For me as a private person is it to costly to put a copyright on these CDís. I hope that every true Collector of vintage Tamiya R/C cars will agree with this. It took me a lot of time and effort to produce this Video Cdís from old VHS tapes. I did contacted Tamiya Customer-service in the US to make sure I would not brake any copyright laws. Since I made these Cdís myself( what was not available in the mid 1980ís) and the original VHS Videos are promotional tapes for hobby-stores ( not resale ) there should be no problem here. I hope you can enjoy these Videos from the past as much as I do.
please check my other auctions for more videos!
shipping within the US $5.- by insured priority-mail. Outside the US please contacted me for shipping-cost.
PLEASE EMAIL ME IF YOU WOULD LIKE THESE VIDEOS ON DVD!IF I GET ENOUGHT REQUEST'S ,
I WILL PRODUCE THESE VIDEO'S ON DVD'S AND OR VCD COMPATIBLE!
Other videos available:
early 80's Tamiya R/C cars (2 CD's)
Tamiya's Hilux Blazer Bruiser (1 CD)
Tamiya Tamtech (1 CD)
the 90's Tamiya R/C cars (2 CD's)