Tamiya Video's

click on images to watch or download videos !
ATTENTION :
SOME OF THESE LINKS WILL GET YOU BACK TO MY OLD WEBPAGE !
( I am not quite done yet with the move , sorry )
UPDATE :
NEW : Tamiya Videos from the 80's , 90's and 2000.
All Videos Now also available on 4 DVD's !
now also available for direct purchase via Paypal !

( see below )
Now I have about 4 hrs of Tamiya Videos ( on 4 DVD's )
from about early 1980's - 2000 ,
almost 20 years of tamiya's R/C car history
including a clip from the TAMTECH cars ,
a special edited slow-motion-version of the Bruiser video
and a cool video from my own Bruiser
(click on the image below to see it full screen )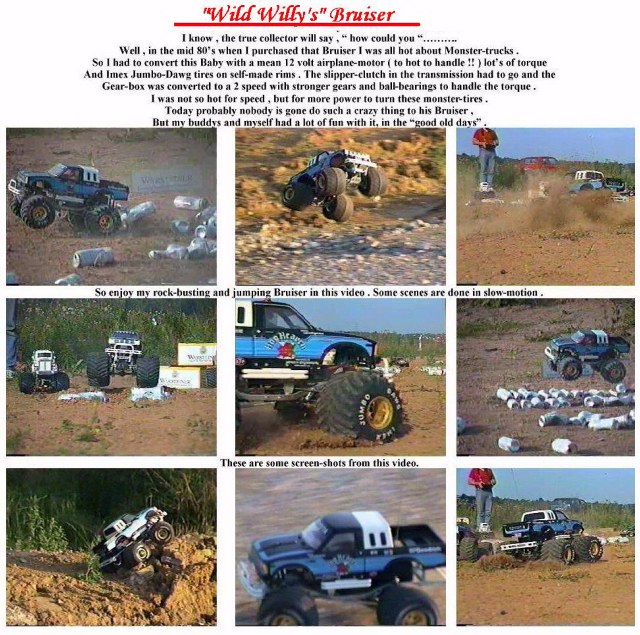 I will update this page soon with more previews .
All videos now also available on DVD !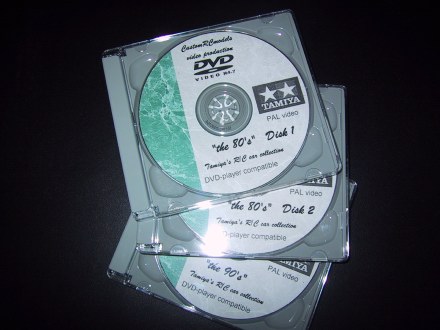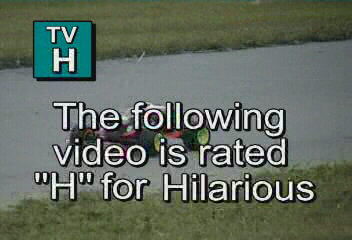 you have to see and hear this one ! ( 30sec 352x240 1.6mb - mpg )
my Losi XXT/CR Racing-Beetle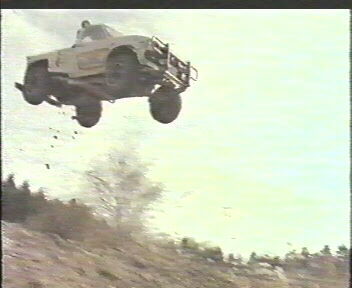 this is an old original Tamiya Video
( 2min 160x80 -1.8mb - mpg )
Blazing Blazer and Toyota Hilux
( 10sec 352x288 - 1.8mb - mpg )
the videos below are 352x240 high quality mpg-files
those are 10 sec clips from the actual CD-ROM's I just finished .
these videos are made for full-sceen playback .
You can set your media-player to 200% zoom .
If you have a video-card ore DVD player in your Computer
with TV out , you can watch these Video's also
full-screen on your TV .
These Video's are digital remastered
with 3000 kb/sec in MPEG-format
and NTSC (USA)-color-standard .
(also in PAL ( Europe ) standard available ! )
( regular Video-CD's are only 1150 kb/sec )
please remember these clips are made from
20 year old VHS tapes !
THE DVD versions have a 720x480 resolution !
click the "film reel"

below each photo
to watch or download . Enjoy !
I'm working on updating these links ,
please check back again !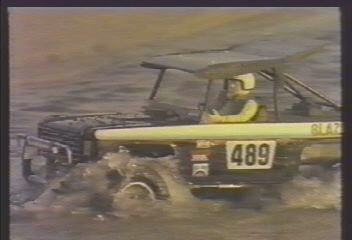 Blazing Blazer 3.8mb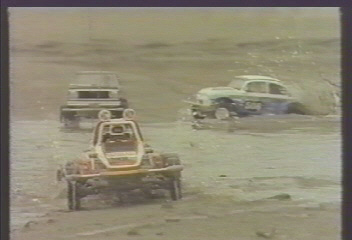 Rough Rider , Ford Ranger ,
Sand Scorcher 3.5mb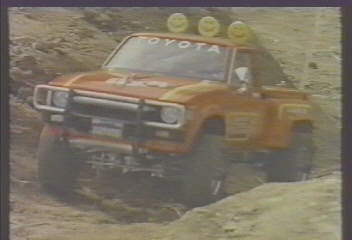 Toyota 4x4 Hilux 4.8mb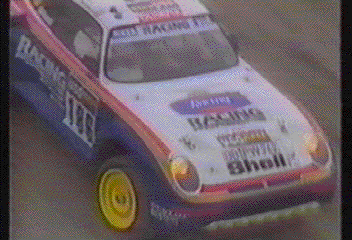 Porsche 959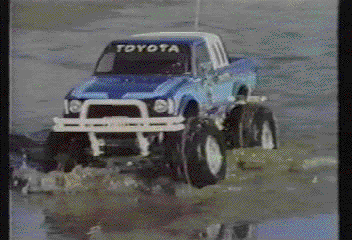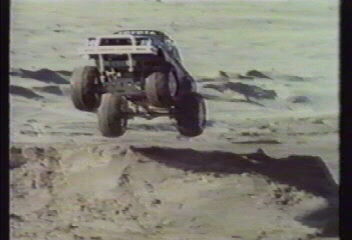 see the Bruiser in slow-motion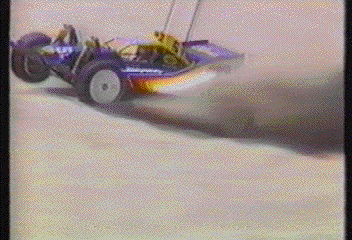 UPDATE :
NEW : Tamiya Videos from the 80's , 90's and 2000.
All Videos Now also available on 4 DVD's !
If you like to purchase them , or trade for some of your
Tamiya Video's , please contact me below :
additional infos :
In the meantime I have made 4x DVD's ,
Covering the time from the early 80's till 2000
The 4th DVD includeds also some of my own video-creations ,
from my own R/C vehicles ……..
this DVD set is now available in PAL or NTSC standard ……
I will include also a CD-rom-version of my website …
if you don't have an DVD player or Computer DVD-rom ,
you can get all these videos on CD-rom's ,
but I have not made true VCD versions yet ..these CD-rom's will only play on a Computer
I am asking for US $55.- shipping included …
International I will ship these DVD's just in sleeve's ( to keep the weight down ) and being able to ship them as a letter-mail in an padded envelope …via Global-priority-mail …
Within the USA I will ship them in a packet in jewel-cases via Priority-mail
As Payment I prefer Paypal ( www.paypal.com )
Or within the USA a postal-money-order ,
Or international an international money-order
to order and pay via Paypal , USA only - NTSC version
click below :
to order and pay via Paypal , international - NTSC version
click below :
to order and pay via Paypal , international - PAL version
click below :
Willy
customrcmodels@cs.com
www.CustomRCmodels.com
In der Zwischenzeit habe ich 4x DVD's produziert ,
Mit Tamiya videos von den Anfang 80er bis 2000
Die 4. DVD beinhalted ein paar von meinen Eigenen Video-produktionen
Von meinen R/C Fahrzeugen
Dieser DVD Satz ist in PAL oder NTSC Standart erhaeltlich
Und beinhaltet auch meine Webseite als CD-rom version
Wenn Du keinen DVD-Spieler hast ,
kannst Du diese Videos auch auf CD-rom's bekommen .
Es sind allerdings keine Echten VCD's , heist spielen nur auf einem Computer
Fuer diesen DVD Satz haette ich gerne US $55.- , beinhaltet Versand
International werde ich diese DVD's nur in Huellen verpacken ( Gewichtsersparnis )
damit ich diese DVD's als Luft-Post-Brief in watiertem Umschlag verschicken kann ,
via Global Priority-Mail
Innerhalb USA werde ich diese DVD's in den Jewel-Casetten als Paeckchen
via Priority-mail verschicken
Als Bezahlung bevorzuge ich Paypal ( www.paypal.com )
Oder innerhalb USA eine Post-Money-Order ,
Oder international eine Internationale Money-Order
fuer Bestellung und Bezahlung mit Paypal , International - PAL Version
bitte hier anklicken :
Willy
customrcmodels@cs.com
www.CustomRCmodels.com